Non-domestic solar arrays underperforming by £millions annually
Many solar photovoltaic (PV) schemes are financially underperforming and reduced energy output isn't the only cause, a recent study by Roadnight Taylor has found.  
The independent power and energy specialist found that 91% of the 10-500kWp solar schemes it analysed would benefit from low-cost correction of issues, leading to an average improvement of £1,473 in annual financial performance – or just over £31,000 for the remaining life of each PV array studied. 
"Roof top arrays are fitted to more than 20,000 non-domestic buildings across the UK," says CEO Hugh Taylor. "The financial benefits across the UK from optimising these investments could run to hundreds of millions over their feed-in tariff (FIT) life-spans." 
The largest contributor to financial underperformance is poor photovoltaic output – affecting 40% of the installations assessed. 
"The improvements we prescribed were worth on average an extra £4,380 of income per year per array. Average payback of the cost of improvements was less than six months," he explains. 
Many performance issues can be identified through a desktop study, with an appropriate course of action recommended. 
"Be careful of paying the original PV installer to check schemes – they will effectively be marking their own homework," warns Taylor. "An independent study for one business discovered one of their schemes had been underperforming by thousands of pounds for each of the four years since its installation – despite the customer having paid over £1,000 every year for their installer to test and inspect their array."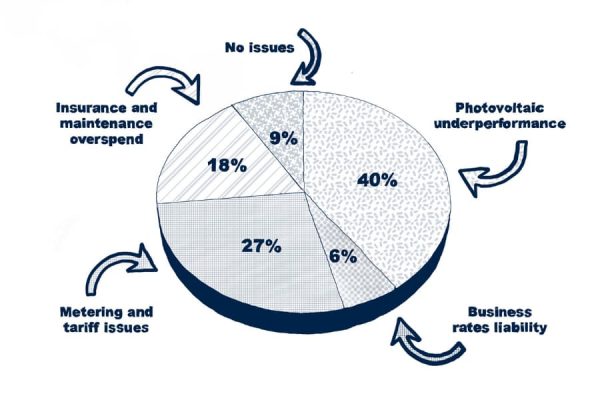 Some 27% of arrays suffered significantly from metering and tariff issues, and 18% had returns dragged down by insurance and maintenance overspend.   
"All of these present opportunities for increased revenue or cost reductions, with typical paybacks of less than 12 months," Taylor adds. 
Avoidable business rates liability was an issue for 6% of sites – an issue that was recently highlighted by retailer Lidl, which saw its business rates jump by over 528% due to changes in the valuation of the solar PV installations at its sites.
"There are many steps that can be taken to avoid paying excessive business rates associated with solar arrays. A common example is moving ownership of an installation into a special purpose vehicle, or exporting the electricity generated to another party, but a range of intelligent strategies exist that can achieve this objective. It makes sense to work with a specialist who can help to navigate changing policies in the field." 
One retail outlet that Roadnight Taylor worked with was using more than 50% of its generated electricity on site and was accruing a business rates liability in excess of £6,000 per year on a PV array of just 175kW. "We were able to advise them on how to take appropriate action to significantly reduce this cost," says Taylor.   
"Only 9% of schemes checked had no issues. The owners of these schemes, and those that have had their issues corrected, now have peace of mind knowing their PV investments are performing at their true potential. In addition, they can now establish if they should invest in more solar or integrate battery storage into existing arrays to further improve their financial return." 

Contact us
To book your PV HealthCheck, call us on 01993 830571 or send us a message via our contact form.